Wedding Entertainment
with a difference
Dance bands are a dime a dozen. And while we enjoy a pumping dance floor as much as anyone, our specialty is something a little different: "cocktail hour style" acoustic covers.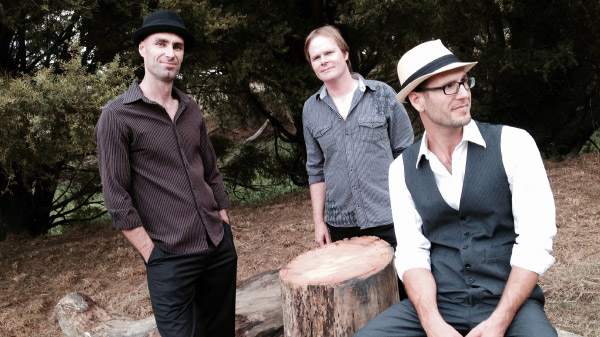 Music for the discerning listener
Acoustic Crème can provide dance music, and many a dance floor has been kept alive for hours by our performance but our point of difference and real value is in our wide range of carefully crafted, alternate renditions of popular classics.
Mood-setting, easy listening music provides your guests with an ideal acoustic backdrop, allowing them to converse, sit back and enjoy the entertainment or both.
With a focus 3-part vocal harmony, solid musicianship and exceptional attention to detail, Acoustic Crème provides a first class acoustic experience unlike any other.
Whether you are in need of a featured performance, dance music or unobtrusive, background entertainment, Acoustic Crème is the right band for your wedding or corporate function.
a wedding band with experience & history
Acoustic Crème have been in the business of live wedding entertainment since 2002. During that time we have played at a wide range of venues under an array of conditions and various requirements.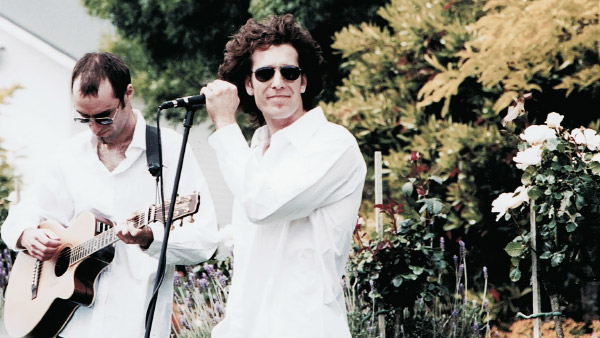 With a wealth of collective and individual experience, we understand live music and its role in creating and maintaining an atmosphere at your wedding or corporate function. Weddings are a big deal: whether it's important to you that everything runs to schedule or that there is no stress, we can be the band you need us to be.
Our musical expertise has earned us roles in a number of Auckland cover bands and residencies at various venues. While we are based in Auckland, we are available for hire New Zealand wide. Our acoustic wedding band service has taken us as far as Omapere, Whangarei, The Waikato, Great Barrier and Waiheke Island, Taupo, Rotorua, Wellington, and Christchurch.
our song list
Below is a link to a list of covers we play regularly. It is not an exhaustive list and we routinely learn songs on request. Please contact us if you have any specific requirements.
We pride ourselves in being flexible - understanding that people have a range of tastes and ideals - and readily tailor our music to our clients' requirements. Whether you are looking for a featured performance, dance tunes, or music to set the mood, Acoustic Crème can provide whatever you need.
listen to our music
Acoustic Crème play a wide variety of covers, from easy listening classics to top 40's hits. Check out our video compilation and a couple of audio snippets.
Rosanna - Toto
Born to Be My Baby - Bon Jovi
our testimonials
Destination Orewa Beach
Beach 'n' Bites Longest Dinner: March, 2020
THANK YOU... for Saturday's performance - you aced it!! With practically no input from us, no pre-set playlist and only minimal specifics, you just made it work and read the audience perfectly!
We have had more comments about the music than any any other individual success of the evening so well done to you all.
Philippa Grantham - Conferenz
Corporate Events: 2018-2019
We have used Acoustic Crème for several events now and have always been very happy with the group. They're great to work with, provide exactly the kind of music that works well for each event (and they're very adaptable to change on the fly) and they're professionally presented. We look forward to working with them in the future!
Edward & Bridget Usher
Wedding: March, 2013
Simply cannot thank you guys enough for the incredible music and entertainment last month at our wedding. Our expectations were pretty high but you absolutely surpassed all of these, a great effort by you all and we will remember this for ever.
We had such an awesome day and this was followed by a great honeymoon before our return to England. We're back to work and routine here now but constantly reminiscing of the amazing day we had.
Dan & Eva Cook
Wedding: Februrary, 2013
Acoustic Crème is a world class act that has to be seen. Their musical ability is amazing; their singing and wide range of material is superb.
All of our guests were blown away by the band and raved about them. We will definitely hire Acoustic Crème for our next function and strongly recommend them as the best act around!
Thanks again for bringing the music to our wedding!
Lisa Wang & Chris Thorne
Wedding: December, 2011
The band created an amazing atmosphere for our wedding. We couldn't have asked for more. We loved the beautiful sound and presentation.
Acoustic Crème are so friendly and flexible with our requests. Our guests have thoroughly enjoyed the music as much as we do.
Kent & Kelly Fearon
Wedding: March, 2010
I recently had Acoustic Crème play at my wedding during an informal cocktail style reception and I was extremely impressed!
I had heard Luke, Shane and Hayden play before but in a more upbeat environment. I was very happy with how entertaining yet un-intrusive they were as a wedding band to our large and diverse crowd.
I have had numerous comments on how fantastic they were, and how well they suited the relaxed setting we wanted to create for our reception.
They took the time to create a playlist of songs that would suit our range of guests and it was perfect. They display a great level of talent and the three of them together create amazing music. I would highly recommend them as a wedding band or for any occasion!
Reservoir Bar & Bistro
Resident Cover Band: 2010-2011
Acoustic Crème performed at Reservoir Bar & Bistro for a period exceeding 12 months as our lead entertainment on Friday evenings.
We found them to be a group of exceptional musicians with a great range of talents. They were always willing to listen and take on board our requirements and met our expectations on every single occasion.
The group always interacted well with the audience and drew excellent crowds after establishing themselves as a feature on our weekly entertainment calendar.
We would not hesitate to recommend Acoustic Crème for any event, function, or bar residence and would be more than happy to add to this reference.
Silverdale Tennis Club
Private Function: July, 2010
We highly reccommend Acoustic Crème. This polished, pleasant and professional trio delivered superb, unobtrusive background music for the duration of our Clubhouse dinner. The atmosphere they created set the scene - we had a great night.
David & Carmen Mountain
Wedding: 2008
If you're looking for live music for your wedding or other special event, look no further.
We had Acoustic Crème play on our wedding day and people still remember and ask after the band.
The music was fantastic and knowing the members personally I know they will make it so for you. Worth every cent.
Spencer & Julie Roberts
Wedding: 2008
We had Acoustic Crème play at our wedding at Alberton House and it was a magical day. They accommodated our requests and played awesome music that totally suited the style of the wedding.
They are a really neat group of talented musicians and I would highly recommend them to play at events, especially weddings. They even learnt a song we requested that was special for us.
Brent & Kelly Bramwell
Wedding: 2008
Acoustic Crème provided a fantastic musical lead-up to our wedding and kept all parties happy and relaxed before the bride walked up the aisle.
We found the music to be of good variety and would definitely use them again for other events.
Thanks again to the wedding band, with much appreciation...
Joel & Naomi Young
Wedding: 2004
Acoustic Crème played at our wedding. It was super.
My wife wanted a particular song for the walk-in but we didn't really like the original artist's voice so we got the band to perform it as well as other songs during the ceremony and a set during the reception.
As expected, they did an amazing job in an important moment. They are reliable, professional and present well.
bookings
Our rate varies according to the specific requirements of the engagement. We consider a range of factors when providing a quote, including travel distance, the length of time we are required on site, restrictions around set up time, etc. See our base rates below:
1 hour: $1200.00 (minimum)
2 hours: $1500.00
3 hours: $1800.00
4 hours: $2100.00
Note: These rates do not include travel and assume an immediate setup and packdown. Please be aware that this may not always be possible depending on how you intend to use your venue, when guests are scheduled to arrive, etc.
We routinely travel outside of the Auckland region. Please contact us with your event information for a quote. Prices are negotiable.
get in touch
For enquiries, bookings, or feedback, please contact:
Luke Grayson: (021) 297 6297
Alternatively, you can send us an webform enquiry.
Connect with Acoustic Crème